American Tanks and Tank Destroyers during World War II (1983)
American Tanks and Tank Destroyers during World War II (1983)
"Faint Praise" by Charles M. Baily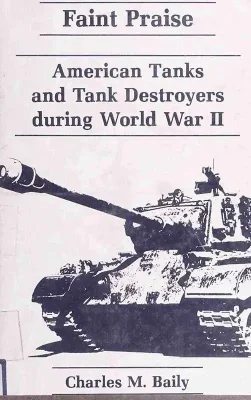 Toward the end of World War II, newspapers revealed what American soldiers had discovered months before — when Sherman tanks tried to slug it out with the heavier German Panzers, they came out second best. Historical argument has it that the hidebound conservatives of the Army effectively blocked the introduction of superior fighting vehicles based on their tactical dogma that tank destroyers - not tanks - should fight German armor.
This book disagrees with this notion, and instead reveals that problems in tank development resulted from a complicated and often confusing mélange of technology, doctrine, combat experience, intelligence, and personalities.
Further, it dispels the myth that soldiers were pleading for a better armed Sherman throughout the war. The demand for big guns did not start until mid-1944, leaving little time for a technological solution to Panzer-killing. Using new, fascinating sources and a fresh look at some old ones, Faint Praise considers the full spectrum of historically relevant facts, from technological capabilities to operational history, to provide a new answer to the tank question of World War II. The author Charles M. Baily was a Lieutenant Colonel of the U.S. Army in the United States Mission to NATO.
Contents of the book
Illustrations (vii)
Tables (ix)
Acknowledgements (xi
Introduction (1)
Army Anti-Tank Doctrine and Army Organization for Research and Development (13)
Developing Tanks and Tank Destroyers: 1942 (32)
Combat Experience in the Mediterranean: 1942-43 (51)
Development and Changing Doctrine: 1942-43 (62)
Controversy and Development: 1943 (79)
Combat in Europe: 1944 (99)
Development and AGF-Ordnance Disputes: 1944 (119)
Conclusion (140)
Appendix 1: Technical Explanations (147)
Appendix 2: Technical Data (152)
Notes (159)
Sources (181)
Index (193)
Illustrations
Army Organization (24)
Sherman Tanks in Italy, 1944 (33)
T7 Tank (34)
M3 (40)
M6 in Arkansas mud, 1942 (41)
Cletrac (44)
M10 in England, April 1944 (46)
Ml and M6 towed 3-inch guns (66)
T70 after standardization as the Ml 8 "Hellcat" (67)
M10 and M36 in Germany, 1944 (72)
M3, M10, M18, and M36 (77)
M4 (76-mm) plows through French mud, 1944 (83)
M4A3E8 in Germany, 1945 (84)
M36B1 (88)
M10 with an armored top improvised in France, 1945 (89)
Panther (100)
A crew struggles to emplace its 3-inch gun in Germany, 1945 (107)
M 18 in Germany, 1945 (113)
T26E3, standardized as the M26 "Pershing" (123)
T5E2 90-mm gun carriage (130)
Artist's conception of the AGF tank (135)
Tables
Selected Models of the T20 Series (37)
Characteristics of the T23 and M4 76-mm (82)
Penetration Performance Against Armor Angled at 30° (110)
German Tank Strength in Italy and in Western Europe (112)
Total German Army (East and West) Tank Strength Ready for Action (113)
Monthly Losses of ETO, 1944-45 (118)
Tentative Production of T26 (120)
Period/s:
WWII (1939-1945)
{{#ratings}}
{{#editor}}
{{/editor}} {{#user}}
{{/user}}
{{/ratings}}
{{title}}
{{#ownerCreatedBlock}}
{{#owner}}
{{#url}} {{#avatarSrc}} {{/avatarSrc}} {{^avatarSrc}} {{& avatar}} {{/avatarSrc}} {{name}} {{/url}} {{^url}} {{#avatar}} {{& avatar}} {{/avatar}} {{name}} {{/url}}
{{/owner}} {{#created}}

{{created}}

{{/created}}
{{/ownerCreatedBlock}} {{#category}}
Category:
{{category.title}}
{{/category}}
{{#fields}}
{{#showLabel}}
{{label}}:
{{/showLabel}}
{{& text}}
{{/fields}}