Military Robots – High-Tech Military Weapons (2007)
Military Robots – High-Tech Military Weapons (2007)
Military applications, Juvenile literature by Steve White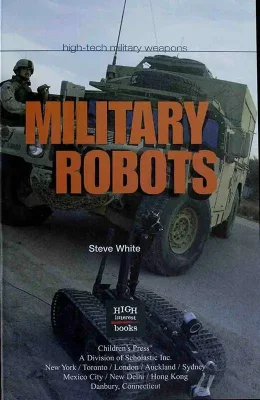 You are an American soldier, having a long, hard day. You've been on patrol for hours on the streets of a foreign city. Your feet are sore, and you are baking under a hot sun. Sand and dust are everywhere - up your nose and clogging your throat. You wear goggles to protect your eyes. Bombs pose a constant and deadly threat to you. These explosives are usually hidden in cars parked by the side of the roads you must patrol.
A fellow soldier spots an unmarked package under a pickup truck. If it's a bomb, it could explode. You call the bomb disposal team, the soldiers whose job is to get rid of bombs that have not detonated, or exploded. This is a very dangerous job, even for soldiers with special training. The team decides not to send a person to do the job. Instead, they use
a strange machine that rolls along on tank treads. It has a mechanical arm and its "head" is a video camera. It looks like something out of a science fiction film, but this is no Hollywood movie. This real robot is controlled by a soldier standing hundreds of feet away. The robot rolls over to the vehicle and carefully removes the unmarked package from beneath it. It carries the package into a nearby field, out of harm's way, where a controlled explosion safely destroys it. That's when you realize that robots are becoming a part of today's military, and they're already making the work of flesh and blood soldiers much easier.
Contents of the book
Introduction
Why Robots?
War Machines
Robot Evolution
Marine Machines
Bots in the Twenty-first Century
New Words
For Further Reading
Resources
Index
About the Author
Period/s:
Iraq War (2003-2011)
War on Terror (2001 - today)
{{#ratings}}
{{#editor}}
{{/editor}} {{#user}}
{{/user}}
{{/ratings}}
{{title}}
{{#ownerCreatedBlock}}
{{#owner}}
{{#url}} {{#avatarSrc}} {{/avatarSrc}} {{^avatarSrc}} {{& avatar}} {{/avatarSrc}} {{name}} {{/url}} {{^url}} {{#avatar}} {{& avatar}} {{/avatar}} {{name}} {{/url}}
{{/owner}} {{#created}}

{{created}}

{{/created}}
{{/ownerCreatedBlock}} {{#category}}
Category:
{{category.title}}
{{/category}}
{{#fields}}
{{#showLabel}}
{{label}}:
{{/showLabel}}
{{& text}}
{{/fields}}