Military Motorcycles (1997)
Military Motorcycles (1997)
History and use of Military Motorcycles by Michael Green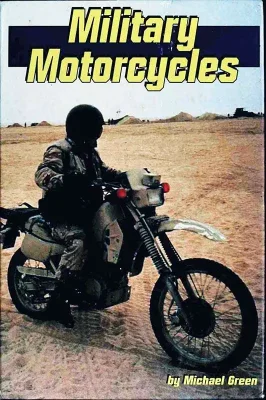 The word "motorcycle" combines the words "motor" and "bicycle." A motorcycle is a bicycle with a motor. A military motorcycle is a special kind of motorcycle. It is made to carry soldiers. Military motorcycles carry soldiers in peacetime and in wartime. They perform many different jobs. Soldiers have found that military motorcycles are especially good for delivering orders when radios break down.
Military motorcycles have been used as scout vehicles. Scouts are people who spy on enemy troops. Scout vehicles are the machines scouts drive while they are spying. Motorcycles are good scout vehicles because they are small. With special, quiet mufflers, they can sneak up on the enemy. Motorcycles also are easy to hide. They can go places that other vehicles cannot.
Military motorcycles can be armed with machine guns and mortars. Mortars are small cannons. Some armies have used their motorcycles as attack vehicles.
Contents of the book
Chapter 1: Military Motorcycles
Chapter 2: The First Military Motorcycles
Chapter 3: A Replacement for the WLA
Chapter 4: German Military Motorcycles
Chapter 5: Safety Problems
Features
Historical Map
Photo Diagram
Words to Know
To Learn More
Useful Addresses
Internet Sites
Country:
Multiple Countries
Period/s:
WWI (1914-1918)
WWII (1939-1945)
{{#ratings}}
{{#editor}}
{{/editor}} {{#user}}
{{/user}}
{{/ratings}}
{{title}}
{{#ownerCreatedBlock}}
{{#owner}}
{{#url}} {{#avatarSrc}} {{/avatarSrc}} {{^avatarSrc}} {{& avatar}} {{/avatarSrc}} {{name}} {{/url}} {{^url}} {{#avatar}} {{& avatar}} {{/avatar}} {{name}} {{/url}}
{{/owner}} {{#created}}

{{created}}

{{/created}}
{{/ownerCreatedBlock}} {{#category}}
Category:
{{category.title}}
{{/category}}
{{#fields}}
{{#showLabel}}
{{label}}:
{{/showLabel}}
{{& text}}
{{/fields}}