Military Planes (1985)
An Easy Read Fact Book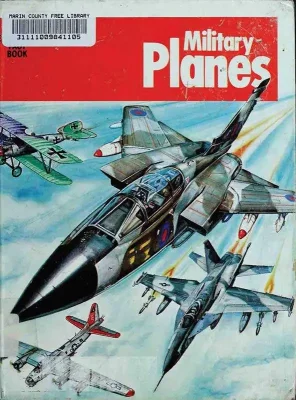 The first aerial combats took place over France in World War I. In the earliest combats, known as dogfights, pilots often were armed only with pistols. If the planes carried bombs, they were aimed and dropped by hand. The earliest planes were built as scouts, not fighting machines.
Progress in aircraft design was swift though, and soon planes were being made with powerful engines and machine guns. The wings and fuselage were made of wood, covered with fabric. There was little or no protection for the pilot against enemy bullets and there was a constant danger of fire. Parachutes had not been invented. If a plane was hit by enemy guns or the engine failed, the pilot went down with the plane. But with luck and skill the pilot could make a forced landing and get out alive.
By the 1940s, fighting planes had developed into powerful weapons of war. In World War II, bombers were used to attack many cities. Bomber planes ranged from single seaters, armed with a small bomb under each wing, to huge four-engine planes like the B-17 Flying Fortress shown below. Fortresses flew long missions, escorted by planes such as the P-51D Mustang. Mustangs carried extra fuel under their wings in "drop" tanks to enable them to fly long distances with the bombers. Drop tanks were so-called because they could be dropped in mid-air if necessary. In air combat, the extra weight of fuel tanks could mean the difference between winning or losing a fight.
Contents of the book
High-flying Eagle
Early fighter planes
Air power
Jets
Modern fighters
Jet bombers
Guns, missiles, bombs
Patrol and recon planes
Jump-jets
Transports
Navy planes
Tomorrow's air force
Plane spotting
Country:
Multiple Countries
Period/s:
WWI (1914-1918)
WWII (1939-1945)
Pacific War (1941-1945)
Cold War (1947-1991)
Korean War (1950-1953)
Vietnam War (1955-1975)
{{#ratings}}
{{#editor}}
{{/editor}} {{#user}}
{{/user}}
{{/ratings}}
{{title}}
{{#ownerCreatedBlock}}
{{#owner}}
{{#url}} {{#avatarSrc}} {{/avatarSrc}} {{^avatarSrc}} {{& avatar}} {{/avatarSrc}} {{name}} {{/url}} {{^url}} {{#avatar}} {{& avatar}} {{/avatar}} {{name}} {{/url}}
{{/owner}} {{#created}}

{{created}}

{{/created}}
{{/ownerCreatedBlock}} {{#category}}
Category:
{{category.title}}
{{/category}}
{{#fields}}
{{#showLabel}}
{{label}}:
{{/showLabel}}
{{& text}}
{{/fields}}