Dulag Luft - Durchgangslager der Luftwaffe (1939)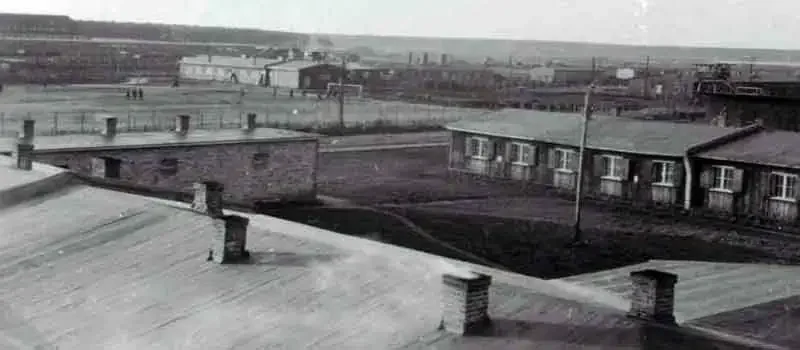 Dulag Luft - Durchgangslager der Luftwaffe (1939)
Transit Camp for German-captured members of the Air Force and RAF during World War II
Dulag Luft, the German prison camp through which tens of thousands of Allied airmen captured in western Europe passed, was the most efficient interrogation center of World War II. Dulag Luft (the word is a corruption of the German "Durchsgangslager Luftwaffe", or air force transit camp) was near the town of Oberursel, about 10 miles (16 km) northwest of Frankfurt-am-Main in western Germany.
It occupied a large, pleasant-looking farmhouse that had once been part of an experimental farm. The first prisoners arrived in December 1939, and in April 1940, they were moved to barracks in an adjacent compound. In early 1941, the interrogation center, comprising 129 solitary confinement cells, was opened. The center designated "Auswertestelle West", or Evaluation Center West, later grew to about 200 cells, many equipped with electronic listening devices.
In September 1943, the barracks, by now overcrowded with incoming prisoners, were moved to a public park in the center of Frankfurt, where it remained until March 1944, when the camp was hit by Allied bombs. It was then moved to the nearby city of Wetzlar, where the prisoners were forced to live in tents until the barracks were completed in July. (Through these changes, the interrogation center remained at Oberursel.) The Wetzlar camp was evacuated to Nuremberg on 25 March 1945 faced with advancing Allied armies. When American troops reached the site a month later, Dulag Luft was empty. It was later transformed into Camp King, a U.S. transport depot, the interrogation block becoming the officers' mess.
The camp population was relatively small. There were rarely over 150 prisoners at Oberursel at anyone time, while the Frankfurt camp held 350 prisoners. The Wetzlar camp was bigger still, holding 500 POWs on any day. Conditions were good: neutral inspectors reported that food, medical attention, sanitation, washing facilities, and accommodations were often excellent, in part because of the Germans' belief that prisoners who were well treated in the first days of their captivity might let down their guard and reveal useful military intelligence.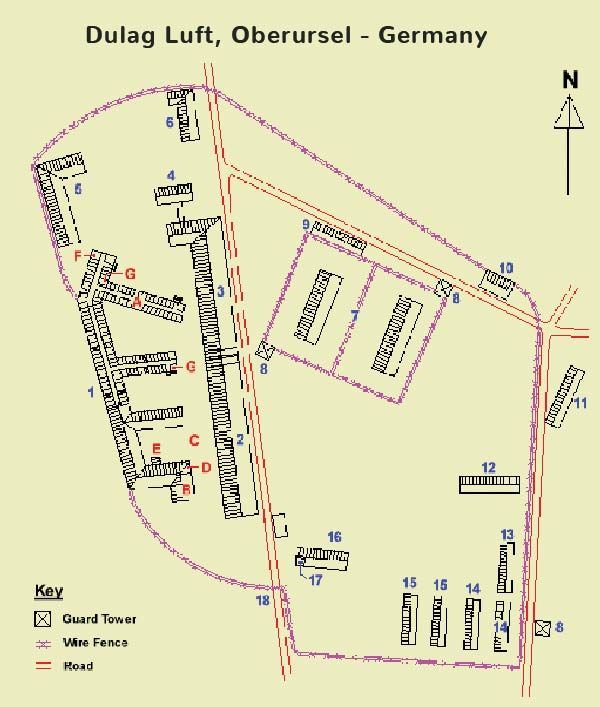 The camp's purpose was to prepare prisoners for their transfer to a permanent camp. This involved helping them to acclimatize to life in captivity, a process that was assisted by a committee of long-term prisoners known as the Permanent Staff. Before this process began, however, prisoners were held at the interrogation center, where a variety of means were used to extract any useful information from them. Every prisoner was presented with a questionnaire, ostensibly from the German Red Cross, which asked a wide range of questions, many military in nature.
Prisoners were told that failure to complete the form would cause delays in informing their next of kin of their whereabouts. Sometimes, they were threatened with physical violence or exposed to high temperatures or constant light to convince them to talk. Skilled interrogators interviewed all prisoners (the center had 55 experienced interrogators on a staff of over 300), who would soften them up with American cigarettes and English matches, then show them a thick file full of information on their own squadron. This frequently convinced the new prisoner that his captors knew everything about him and his unit and that there was no harm in answering questions.
By 1944, the Luftwaffe had opened another interrogation center at nearby Dietz an der Lahn to cope with the growing number of captured Allied airmen. Other, smaller centers were established in Holland, northern and western France, and Verona, Italy, so that by 1944, only those airmen of special technical interest were forwarded to Dulag Luft. The German army and navy also operated transit camps that served a dual purpose as intelligence-gathering centers, but none were as sophisticated and successful as Dulag Luft.
Country:
Germany Nazi (1933-1945)
Period/s:
WWII (1939-1945)
Map
{{#ratings}}
{{#editor}}
{{/editor}} {{#user}}
{{/user}}
{{/ratings}}
{{title}}
{{#ownerCreatedBlock}}
{{#owner}}
{{#url}} {{#avatarSrc}} {{/avatarSrc}} {{^avatarSrc}} {{& avatar}} {{/avatarSrc}} {{name}} {{/url}} {{^url}} {{#avatar}} {{& avatar}} {{/avatar}} {{name}} {{/url}}
{{/owner}} {{#created}}

{{created}}

{{/created}}
{{/ownerCreatedBlock}} {{#category}}
Category:
{{category.title}}
{{/category}}
{{#fields}}
{{#showLabel}}
{{label}}:
{{/showLabel}}
{{& text}}
{{/fields}}