Cabanatuan POW Camps - Philippines (1942)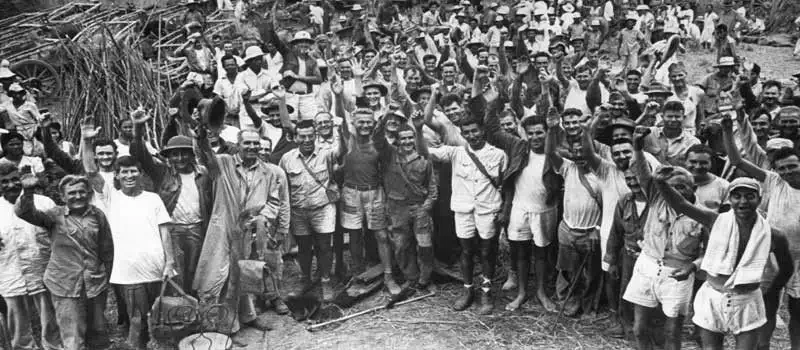 Cabanatuan POW Camps - Philippines (1942)
The largest concentration of American POWs in the Far East in three camps during WWII
The largest concentration of American prisoners of war in the Far East in World War II, Cabanatuan comprised three camps near Cabu village, five to 15 miles (24km) northeast of Cabanatuan City in south central Luzon, Philippine Islands.
Originally built to house the 91st Philippine Army Division, the prison camp occupied about 100 acres (404,700 m2) of land, most of which was surrounded by a high barbed-wire fence. The camp comprised several wooden buildings and thatched barracks made of nipa palm and cogon grass with bamboo-slat floors.
The first POWs, the sick and wounded who had been left behind in Bataan, arrived at Cabanatuan and were assigned to Camp No. 3 on 26 May 1942. They were joined three days later by over 6,000 prisoners from Corregidor, men who had been held at Bilibid Prison. Camp No. 3 having reached its capacity, an additional 1,500 Corregidor prisoners were sent to Camp No. 2, but because its water supply was over 1,000 yards (915 m) from the camp, these men were immediately moved to Camp No. 1.
The high mortality rate at Camp O'Donnell, where Bataan Death March captives had initially been sent, caused the Japanese to shift O'Donnell's prisoners to Cabanatuan No. 1; Donald Knox estimates their number at 5,850 men. Filipino prisoners of war remained at O'Donnell until their release in late 1942. As the Japanese began transferring men to work details elsewhere in the Philippines and overseas to Manchuria and Japan, Camp No. 3 was closed in October 1942 and its remaining POWs, about 3,000, were sent to Camp No. 1.
Terrible conditions prevailed at Camp No. 1 during much of 1942. Food supplies were insufficient, medical treatment was haphazard and poor, and Japanese conduct was erratic. Conditions improved in 1943 and mortality rates dropped significantly. A black market thrived for those with money and smuggling, as well as some trading allowed by the Japanese provided badly needed supplies. Farming, which became the principal occupation for the camp's inmates, also helped increase the amount of food available. Entertainment and recreation programs were developed, and life became as normalized as possible in a Japanese-run prison camp.
During 1944, conditions worsened again as the Japanese reduced rations and cracked down on smuggling. As American forces approached the Philippines in mid-1944, the Japanese shipped POWs deemed able to endure hard labor to Japan in the so-called "death ships". Only about 500 prisoners were left at Cabanatuan when a daring raid, carried out by the U.S. 6th Ranger Battalion, the 6th Army's "Alamo Scouts", and local guerrilla groups, liberated the camp on 31 January 1945. In 2005, the raid was transformed into a movie based on William Breuer's book and starring Benjamin Bratt.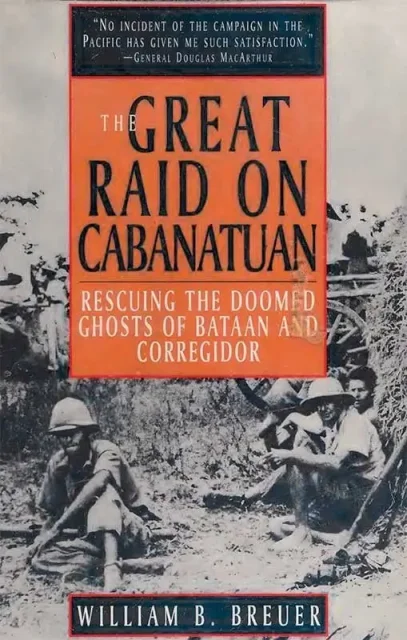 Early on the morning of the 28th of January 1945 a small detachment of volunteers under the command of Lieutenant Colonel Henry A. Mucci, leader of the 6th Ranger Battalion, embarked from their base in the Philippines on the most audacious rescue ...
Country:
Japan
Philippines (since 1898)
Period/s:
WWII (1939-1945)
Pacific War (1941-1945)
Map
{{#ratings}}
{{#editor}}
{{/editor}} {{#user}}
{{/user}}
{{/ratings}}
{{title}}
{{#ownerCreatedBlock}}
{{#owner}}
{{#url}} {{#avatarSrc}} {{/avatarSrc}} {{^avatarSrc}} {{& avatar}} {{/avatarSrc}} {{name}} {{/url}} {{^url}} {{#avatar}} {{& avatar}} {{/avatar}} {{name}} {{/url}}
{{/owner}} {{#created}}

{{created}}

{{/created}}
{{/ownerCreatedBlock}} {{#category}}
Category:
{{category.title}}
{{/category}}
{{#fields}}
{{#showLabel}}
{{label}}:
{{/showLabel}}
{{& text}}
{{/fields}}