Buchenwald Concentration Camp (1937-1945)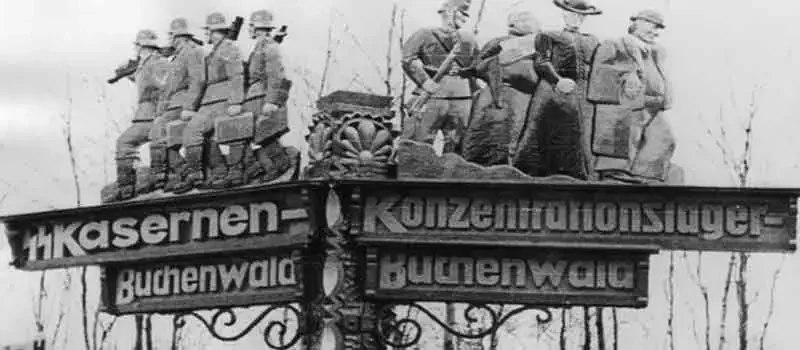 Buchenwald Concentration Camp (1937-1945)
Nazi concentration camp north of Weimar established in 1937 primarily for political prisoners
Buchenwald concentration camp in Germany operated from 1937 to 1945, during which tens of thousands of inmates were put to death by the SS-Schutzstaffel, including several thousand Soviet POWs and several Allied intelligence officers.
On the 19th July 1937, the SS-Schutzstaffel established Buchenwald concentration camp on the Ettersberg Hill, five miles north of the city of Weimar, Thuringia. Until 1939, the inmate population consisted primarily of German political prisoners, criminals with multiple convictions, Jehovah's Witnesses, and homosexuals. After the beginning of World War II, more and more prisoners from German-occupied Europe arrived in the camp and would eventually vastly outnumber German inmates.
Although Buchenwald was not an extermination camp, mass killings (or "special actions") and other atrocities committed by SS personnel and guards occurred frequently. One of the most notorious special actions was directed against Soviet POWs. The chief of the Security Police and Security Service, Reinhard Heydrich, issued two decrees on 17 and 21 July 1941 whereby special detachments of his agency would comb POW camps in search of communists, political commissars of the Red Army, functionaries of the Soviet state and party, and Jews. Those POWs selected were sent to various concentration camps in the Reich for "special treatment" (execution).
From September 1941, transports of Soviet POWs arrived at Buchenwald and were liquidated in the so-called horse stable, an installation that had been specifically designed for this gruesome task. A unit of the SS known as Commando 99 carried out the executions by shooting the victims in the back of the neck. At least 7,000 soldiers of the Red Army fell victim to this killing operation.
On the 18th October 1941, some 2,000 Russian POWs were transferred from a POW camp near Hamburg to Buchenwald, where they were interned in a special compound separated by barbed-wire from the rest of the camp. By the end of 1942, only 1,200 of these men were still alive, and some 800 survived until early 1945. On 10 April 1945, the SS sent the remaining Russian POWs on a death march.
Another special action involved 37 members of Allied secret services (British, Canadian, and French) who had served as liaison officers to the French resistance movement. The Gestapo brought these men to Buchenwald on 17 August 1944. Between early September and mid-October, 1934, of them were hanged by the SS in the camp crematorium; three men survived by going into hiding in the camp, with the aid of other camp inmates. In the fall of 1944, 168 Allied airmen (82 Americans, 48 British, 26 Canadians, 9 Australians, 2 New Zealanders, and 1 Jamaican) were held at Buchenwald for a few months.
On 11 April 1945, advance units of the U.S. Third Army liberated Buchenwald. Approximately 250,000 women and men were held in the camp between 1937 and 1945, and over 50,000 of them perished there.
Country:
Germany - Weimar Republic (1919-33)
Germany Nazi (1933-1945)
Period/s:
Weimar Republic (1918-1933)
WWII (1939-1945)
Map
{{#ratings}}
{{#editor}}
{{/editor}} {{#user}}
{{/user}}
{{/ratings}}
{{title}}
{{#ownerCreatedBlock}}
{{#owner}}
{{#url}} {{#avatarSrc}} {{/avatarSrc}} {{^avatarSrc}} {{& avatar}} {{/avatarSrc}} {{name}} {{/url}} {{^url}} {{#avatar}} {{& avatar}} {{/avatar}} {{name}} {{/url}}
{{/owner}} {{#created}}

{{created}}

{{/created}}
{{/ownerCreatedBlock}} {{#category}}
Category:
{{category.title}}
{{/category}}
{{#fields}}
{{#showLabel}}
{{label}}:
{{/showLabel}}
{{& text}}
{{/fields}}