World War I - Mesopotamia (1914–1918)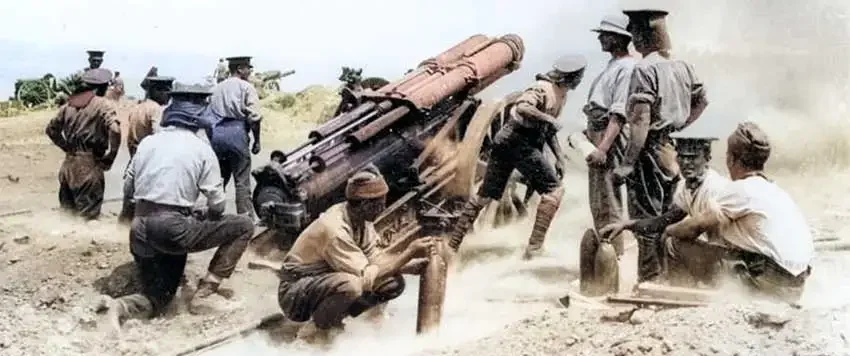 World War I - Mesopotamia (1914–1918)
The fight for natural resources
As the British initially saw it, the strategic importance of Mesopotamia lay in its oil fields. Although most of the Royal Navy ran on coal in 1914–18, oil was still essential as a lubricant and as fuel for land vehicles.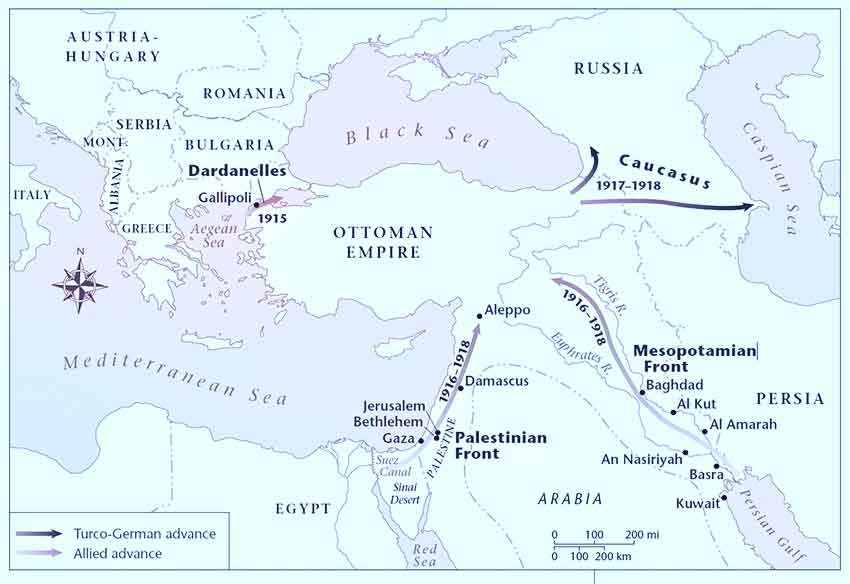 The British cabinet persuaded the Indian colonial government to mount an expedition to protect the great Anglo-Persian pipeline. At Qurna, this force brushed aside light Turkish resistance (April 12–14, 1915), an achievement British military planners inflated out of all proportion. A further advance was ordered, with the ultimate, and utterly unrealistic, aim of capturing Baghdad, which was strategically more important than it really was. In fact, the campaign to take Baghdad was more a product of military frustration than it was of sound military strategy. Deadlocked on the western front, military planners sought movement wherever they might find it, even if such "progress" was of doubtful utility in hastening victory.
Major General Charles V. F. Townshend (1861–1924) led a reinforced division and naval flotilla up the Tigris River, took a Turkish outpost near Qurna on May 31, then proceeded to Amara, which he occupied on June 3. Major General George F. Gorringe (1868–1945) coordinated his movements with those of Townshend and led a small force up the Euphrates as protection of Townshend's flank. Beginning on July 24, at the Battle of Nasiriya, he pounded strong Turkish defensive positions. After a month of hard fighting, these positions were taken.
Having been sent reinforcements, Townshend was now ordered to attack and capture Kut-el-Amara, a village at the confluence of the Tigris and Shatt-el-Hai Rivers. His 11,000 men and 28 guns arrived just below Kut by September 16. About 10,000 Turks, who were well furnished with 38 guns, defended Kut well. Fearful that his communication and supply lines were vulnerable, Townshend awaited supply before attacking. This also gave him time to study Kut closely. He determined that the position was indeed well fortified, but that it had a key weakness. The Turkish forces were deployed astride the Tigris River, divided, with the only bridge fully eighth kilometers (five miles) upstream. The Turks were firmly planted, but they had foolishly limited their own lateral mobility.
Townshend planned an attack to exploit this weakness. On September 26, he ordered two brigades to conduct a demonstration on the right bank of the Tigris to decoy the Turkish reserves. Once the Turks had taken the bait, he moved the two decoy brigades back to positions north of the river under cover of darkness on the night of September 27. Now, with his full forces, he attacked and enveloped the isolated left flank of the divided Turkish army, driving two-thirds of the defenders out of their positions.
Townshend had achieved an efficient victory. But desert combat was grueling, and his troops were too exhausted to press their advantage immediately. The Turks, defeated, withdrew intact. They took up new positions farther up the Tigris at Ctesiphon.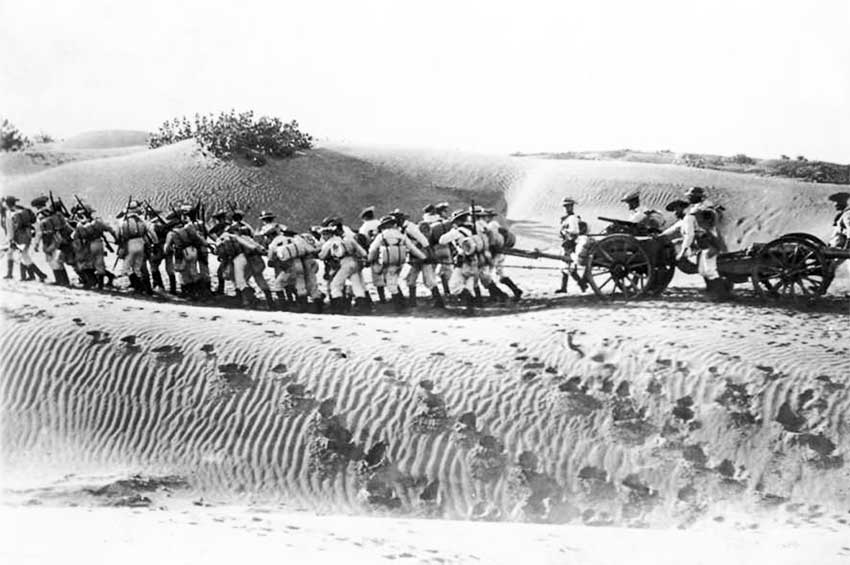 After resting, reorganizing, and, as far as he was able, resupplying his troops, Townshend advanced on Ctesiphon during November 11–22. He was determined to press on to Baghdad. However, at Ctesiphon Townshend confronted extremely well fortified defenses. He also learned that they had reinforced the Turks to a total strength of 18,000 tough Anatolian infantrymen besides various Arab auxiliary troops.
With only 10,000 infantry and 1,000 cavalry, mostly Indian troops, Townshend was seriously outnumbered. He attacked on November 22 in an all-out effort that left nothing in reserve. Remarkably, the first results were highly encouraging. The Turkish vanguard disintegrated before the Anglo-Indian onslaught. But these initial gains were followed by Turkish counterattacks, which came in rapid succession over the next four days. Townshend held out against wave after wave before he withdrew. His Anglo-Indian army had suffered 4,600 casualties out of 11,000 engaged, whereas the Turks lost 6,200 killed and wounded.
The Turkish troops were too battered to pursue the retreating Anglo-British effectively. Townshend fought a single rear-guard action at Umm-at-Tubal on December 1, then returned to Kut, reaching it on December 3. Townshend understood that his infantry was too exhausted to retreat farther. He sent his cavalry to the rear to fetch reinforcements, while he hunkered down with his infantry to await the Turks.
The siege began on December 7. In the meantime, alerted to Townshend's peril, General Fenton J. Aylmer led two Indian divisions to his rescue. He was tried by Turkish resistance in January, however. General George F. Gorringe, sent to replace Aylmer, overcame the Turkish roadblock with a surprise attack against the Turkish positions on the south bank of the Tigris on March 7. Turkish forces here were led by the German general Kolmar von der Goltz (1843–1916), who skillfully repulsed Gorringe's attack. This prevented the rescue of Townshend. Several more times, the British mounted rescue attempts but were foiled in every attempt.
By April 1916, Townshend's food supply had failed, and with starvation looming, he surrendered Kut and his force of 2,070 British and approximately 6,000 Indian troops. The cost to the failed British relief forces had been high (21,000 casualties) but General von der Goltz, aged 73, could not relish his victory. He died from cholera just before Townshend surrendered.
In August 1916, Sir Frederick S. Maude (1864–1917) was appointed to the Mesopotamian command, but he was restricted to an entirely defensive role while the War Office in London debated with the Indian army command whether simply to abandon the Mesopotamian front altogether. In the end, the British presence in Mesopotamia was sustained, if only to continue to protect the oil fields. It was not until December 13, 1916, that Maude was given permission to mount a new offensive on this front. He embarked up both banks of the Tigris with an army of 166,000 men, most of them Indian troops.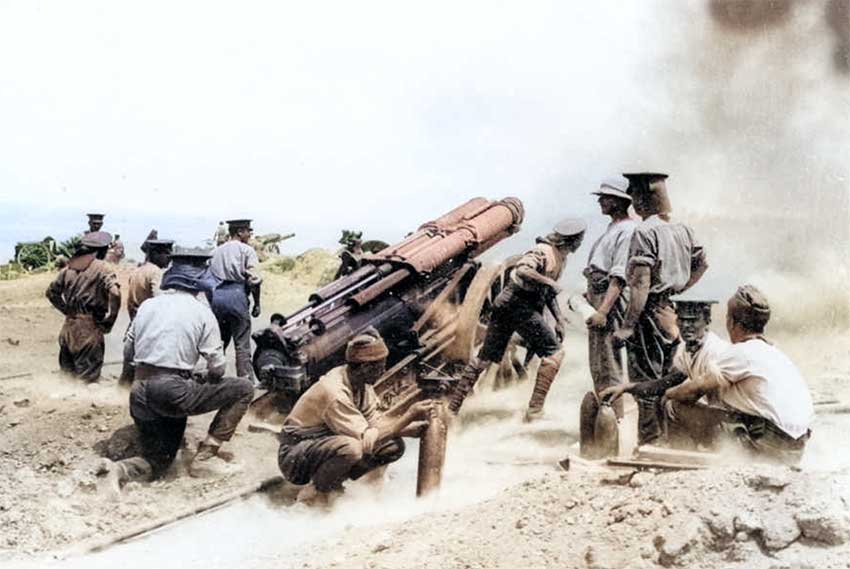 During February 22–23, 1917, Maude defeated the Turkish Sixth Army at the Second Battle of Kut on March 11, after nonstop fighting along the Diyala River, Maude marched into Baghdad, the prize that had figured so prominently in British eyes, the prize that had cost British forces dearly in Mesopotamia.
During September 27–28, Maude advanced out of Baghdad to secure the oil fields of Mosul. He was well on his way to achieving this aim when he succumbed to cholera.
Mosul was not definitively secured until the end of the war, when General A. S. Cobbe (1870–1931) engaged and defeated the Turkish Tigris Group on October 29, 1918. The Turkish armistice was concluded the very next day, but Cobbe was ordered to take and occupy Mosul, contrary to the armistice. Cobbe prevailed, and the Turkish garrison of Halil Pasha withdrew without a fight. This was the last action on the Mesopotamian front.
Principal Combatants
Britain and Turkey
Principal Theaters
Mesopotamian region (modern Iran and Iraq)
Sources and further reading
H. Bleaney, Iraq (Santa Barbara, Calif., ABC-CLIO, 1995)
Paul Davis, Ends and Means: The British Mesopotamian Campaign and Commission (Madison, N.J., Fairleigh Dickinson University Press, 1994)
David Herrmann, The Arming of Europe and the Making of the First World War (Princeton, N.J., Princeton University Press, 1997)
Michael Howard, First World War (New York, Oxford University Press, 2002)
Arnold T. Wilson, Loyalties: Mesopotamia, 1914–1917, a Personal and Historical Record (Westport, Conn., Greenwood, 1968).
{{#ratings}}
{{#editor}}
{{/editor}} {{#user}}
{{/user}}
{{/ratings}}
{{title}}
{{#ownerCreatedBlock}}
{{#owner}}
{{#url}} {{#avatarSrc}} {{/avatarSrc}} {{^avatarSrc}} {{& avatar}} {{/avatarSrc}} {{name}} {{/url}} {{^url}} {{#avatar}} {{& avatar}} {{/avatar}} {{name}} {{/url}}
{{/owner}} {{#created}}

{{created}}

{{/created}}
{{/ownerCreatedBlock}} {{#category}}
Category:
{{category.title}}
{{/category}}
{{#fields}}
{{#showLabel}}
{{label}}:
{{/showLabel}}
{{& text}}
{{/fields}}