Robert Lucas (born Robert Ehrenzweig)
Robert Lucas (born Robert Ehrenzweig)
An intellectual "fighter" against Hitler and Nazi Germany during World War II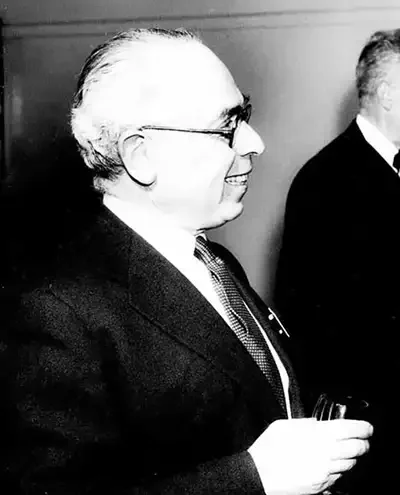 Robert Lucas was an Austrian Jewish writer and journalist (born Robert Ehrenzweig, 8 May 1904 in Vienna) that became well known through his work at the German Service of the BBC and his intellectual "fight" against Hitler and Nazi Germany during World War II.
Lucas studied chemistry and physics at the Vienna University of Technology and the University of Vienna. He worked later as an author for the Social democratic publisher Vorwärts-Verlag (Austria) and was writing political cabarets. In 1931, he wrote the opening ceremony "Das Große Festspiel" for the 1931 Workers Olympiad in Vienna.
Lucas immigrated to London in 1934 when the Social Democratic Workers' Party of Austria was outlawed and many of its members were imprisoned by the Austro-fascist regime. He was a correspondent for the Austrian newspaper "Neue Freie Presse" and from 1938, worked for the German Service of the BBC. During the war, he wrote German-language British propaganda with other emigrants, like Bruno Adler.
The writer became famous for originating the "Hirnschal Letters"' as a broadcast in 1941 by the German language division of the BBC. The main character is Adolf Hirnschal, a German private who writes to his wife admiring letters about Hitler and the Third Reich. As his name Hirnschal (meaning cerebral cavity) suggests, the protagonist is clever. In talking about every-day events, the "Hirnschal Letters" undermined the authority of official propaganda and raised the morale of radio listeners. According to British estimates, the transmissions had about 10 million regular listeners during the last year of the war.
It's a late night in London in 1940, and Austrian exile Robert Lucas is writing at his desk. Bombs are raining down on the city every night, Hitler's army is winning throughout Europe and the invasion of England has become a genuine prospect.
He continued to work for the BBC until 1967, but realized projects for other broadcaster's features and radio plays. Lucas died on the 19 January 1984 in London.
Publications by Robert Lucas
Adolf Hirnschal, Gefreiter in Russland (1943)
Teure Amalia Vielgeliebtes Weib! Die Briefe des Gefreiten Adolf Hirnschal an seine Frau in Zwieselsdorf Europa Verlag Zürich (1946)
Die Briefe des Gefreiten Hirnschal. BBC-Radio-Satiren (1940–1945) - ISBN 978-3-596-25177-3.
Die BBC gegen Hitler. Die Briefe des Gefreiten Adolf Hirnschal an seine Frau in Zwieselsdorf. Europa-Verlag, Zürich 2007, ISBN 978-3-905811-03-2 (published edition)
Honors
Order of the British Empire (1966)
Decoration of Honor for Services to the Republic of Austria
Robert Lucas (born Robert Ehrenzweig) - Quick Facts
Period/s:
WWII (1939-1945)
{{#ratings}}
{{#editor}}
{{/editor}} {{#user}}
{{/user}}
{{/ratings}}
{{title}}
{{#ownerCreatedBlock}}
{{#owner}}
{{#url}} {{#avatarSrc}} {{/avatarSrc}} {{^avatarSrc}} {{& avatar}} {{/avatarSrc}} {{name}} {{/url}} {{^url}} {{#avatar}} {{& avatar}} {{/avatar}} {{name}} {{/url}}
{{/owner}} {{#created}}

{{created}}

{{/created}}
{{/ownerCreatedBlock}} {{#category}}
Category:
{{category.title}}
{{/category}}
{{#fields}}
{{#showLabel}}
{{label}}:
{{/showLabel}}
{{& text}}
{{/fields}}