The Great Raid on Cabanatuan
The Great Raid on Cabanatuan
Rescuing the doomed ghosts of Bataan and Corregidor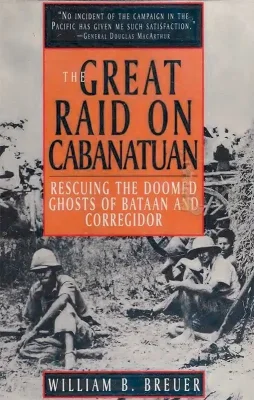 Early on the morning of the 28th of January 1945 a small detachment of volunteers under the command of Lieutenant Colonel Henry A. Mucci, leader of the 6th Ranger Battalion, embarked from their base in the Philippines on the most audacious rescue operation ever undertaken.
Their objective: Penetrate thirty miles behind enemy lines and liberate 511 POW's from Cabanatuan, the notorious Japanese POW camp where thousands of American prisoners had been brutally tortured and killed. Little did Mucci's Rangers know when they got under way that morning that over the next few days and nights, they would be making history.
Written by acclaimed military historian William B. Breuer, The Great Raid on Cabanatuan is a riveting account of that rescue mission and the gallant soldiers who carried it out against overwhelming odds. Based largely on interviews with the heroes who survived the operation and featuring twenty-eight previously unpublished photographs (many of them taken while the raid was in progress) it brings to life in electrifying detail the dramatic events that took place on the night of the raid, January 30, and during the harrowing days that followed.
In sketching out the many roads that led to Cabanatuan, Breuer brilliantly combines oral history with dramatic narrative to bring to life some of the most spectacular events of the war in the Pacific. We relive the hellish battles for Bataan and Corregidor, where in 1942 American and Filipino soldiers fought bravely to hold back the Japanese invasion force. We experience firsthand the horrors of the Bataan Death March on which tens of thousands of prisoners lost their lives en route to Cabanatuan.
We also learn of the American underground and guerilla operations in the Philippines during the Japanese occupation from the men and women behind them, including Margaret Utinsky, leader of "Miss U's underground", and Claire Phillips, the glamorous lounge singer turned spymaster.
A gripping chronicle of one of the most harrowing rescue missions ever undertaken as told in all its gritty detail by the heroes who made it happen, The Great Raid on Cabanatuan is both a first-class piece of military scholarship and a thrilling adventure story.
William B. Breuer is the successful author of twenty WWII-related books, eight of which were main selections of the Military Book Club. Some of his other books include Race to the Moon: How Hitler's Rocket Scientists Put America on the Moon, Hitler's Undercover War, Geronimo: American Paratroopers in World War II, Retaking the Philippines, and Devil Boats.
Country:
Japan
Philippines (since 1898)
Period/s:
WWII (1939-1945)
Pacific War (1941-1945)
{{#ratings}}
{{#editor}}
{{/editor}} {{#user}}
{{/user}}
{{/ratings}}
{{title}}
{{#ownerCreatedBlock}}
{{#owner}}
{{#url}} {{#avatarSrc}} {{/avatarSrc}} {{^avatarSrc}} {{& avatar}} {{/avatarSrc}} {{name}} {{/url}} {{^url}} {{#avatar}} {{& avatar}} {{/avatar}} {{name}} {{/url}}
{{/owner}} {{#created}}

{{created}}

{{/created}}
{{/ownerCreatedBlock}} {{#category}}
Category:
{{category.title}}
{{/category}}
{{#fields}}
{{#showLabel}}
{{label}}:
{{/showLabel}}
{{& text}}
{{/fields}}