Hermann Göring - Hitler´s Second-in-Command
Hermann Göring - Hitler´s Second-in-Command
From the Holocaust Biographies Series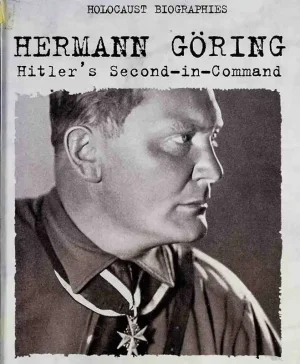 On a rainy day in October 1946, at an anonymous bend in the road somewhere on the outskirts of Munich, Germany, a group of Allied soldiers slowly poured several containers of ashes into the gutter. These ashes were all that remained of several men who had been the heads of the Third Reich (Nazi Germany) witnesses and active participants in the bloodiest war in history.
As the leaders of Germany during World War II, they all shared responsibility for the Holocaust, the mass murder of millions of people for no other reason than that they were Jews. Among the men whose ashes were dumped into the gutter that morning was Hermann Göring, Hitler's one-time second-in-command, the highest-ranking Nazi to be tried by the victorious Allies after the war for crimes against humanity.
Six million Jews were killed by the Nazis during World War II. It was the result of the hatred of one man "Adolf Hitler" who rose to absolute power in Germany and was able to put the resources of an entire nation behind his fanatical obsessions. How did this man, a failed artist and one-time corporal in the German army, become a dictator? How did he come so close to conquering all of Europe? And what, ultimately, led to the downfall of his murderous Third Reich?
One man, Hermann Göring, was with Hitler from his beginnings as a minor politician in Munich to his triumph as commander of the German army. Soldier, politician, and general, Göring was an important and influential member of the Nazi Party who did more to bring about both its successes and its ultimate failure than any other man.

Göring's position as second only to Adolf Hitler in the establishment and maintenance of the Nazi regime is unquestionable, although his influence diminished after...
Country:
German Empire (1866-1918)
Germany - Weimar Republic (1919-33)
Germany Nazi (1933-1945)
Period/s:
WWI (1914-1918)
WWII (1939-1945)
{{#ratings}}
{{#editor}}
{{/editor}} {{#user}}
{{/user}}
{{/ratings}}
{{title}}
{{#ownerCreatedBlock}}
{{#owner}}
{{#url}} {{#avatarSrc}} {{/avatarSrc}} {{^avatarSrc}} {{& avatar}} {{/avatarSrc}} {{name}} {{/url}} {{^url}} {{#avatar}} {{& avatar}} {{/avatar}} {{name}} {{/url}}
{{/owner}} {{#created}}

{{created}}

{{/created}}
{{/ownerCreatedBlock}} {{#category}}
Category:
{{category.title}}
{{/category}}
{{#fields}}
{{#showLabel}}
{{label}}:
{{/showLabel}}
{{& text}}
{{/fields}}